Simultaneous interpretation is a must in multilingual meetings as it allows attendees to understand each other. Interprefy provides the means that enable it in onsite, remote, and hybrid settings.
Simultaneous interpretation is when an interpreter translates, in real-time, the message in the source language to the target language. In this type of interpretation, the natural flow of the speaker is not disturbed as the interpreter interprets the message while the speaker is talking, and the listener receives the message in their preferred language in real-time.
Typically, in in-person meetings and events, simultaneous interpreting requires the interpreter to work from a hardware console in a soundproofed interpreting booth, while the audience wears headsets to listen to the interpretation in real-time. Check our simultaneous interpretation guide for more info.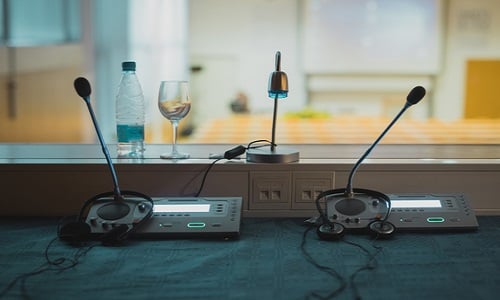 What is remote simultaneous interpretation (RSI)?
Remote simultaneous interpretation is when the interpreter works from a computer connecting to the meeting or event via the internet. Interprefy has developed an RSI platform that enables interpreters to work from anywhere in the world as long as they have a computer, headset, and internet connection. Depending on the meeting setup, attendees can then access the interpretation via a mobile phone, a laptop, or a computer.
As well as its stand-alone RSI platform with videoconferencing capabilities, Interprefy has developed a remote simultaneous interpretation solution compatible with the most used videoconferencing platforms.
Contact us to learn how you can make your next meeting truly multilingual with our remote simultaneous interpretation solutions.