Interprefy is a cloud-based technology solution for multilingual meetings and events of all shapes and sizes.
To interprefy means to make any session - virtual or on-site - a truly multilingual experience. Serving clients of all shapes and sizes since 2015, a team of professionals offers the flexibility and support you need to make your meetings and events a multilingual success.
In this article you will learn about:
Please note Interprefy does not recruit interpreters directly, but partners with language service providers (LSP) to find highly qualified interpreters for each assignment. To know more about how Interprefy outsources interpreters, please read the article How does Interprefy source and vet professional interpreters?
Remote Simultaneous Interpretation (RSI) vs traditional Simultaneous Interpretation (SI)
Traditionally, simultaneous interpreting has been delivered from conference interpreters working from on-site booths to on-site audiences. This is done via interpreting hard consoles to radio receivers, where the audience would dial into their preferred language channel.
With the evolution of RSI, cloud-based technology enables interpreters to work remotely and even deliver interpreting to remote audiences. RSI helps event organisers make their events more flexible, scalable and helps reducing layers of costs associated with logistics and cumbersome hardware.
Interprefy RSI Platform
Interprefy RSI Platform
Interprefy's Remote Simultaneous Interpretation (RSI) platform is a cloud-based technology solution offering tools to manage, deliver and access simultaneous interpreting in any type of meeting and event.
Interprefy's patented remote simultaneous interpretation technology is accessible from anywhere in the world via a network of cloud-based redundant servers across the globe. Its meeting rooms are accessed either by Interprefy web and mobile apps, or common web browsers such as Chrome and Firefox.
To ensure a seamless multilingual experience for all participant groups, Interprefy offers a range of professional services from project support to remote technical support. Ensuring peace of mind that a team of professionals is managing the interpretation setup and is monitoring all channels throughout the sessions.
Interprefy's own multilingual event platform, Interprefy Connect Pro, provides specialised interfaces for each group involved in your meeting or event, from chairperson to delegates, and from interpreters to technical support. This way, each event participant will have access to an interface with specialised features for their role.
Check out this page about how to find the best online event platforms and RSI service providers.
Components of Interprefy's RSI platform
EMI - Interprefy's event management interface to set up and manage multilingual events
Interprefy Interpreter Soft Console - Interprefy's software interface for interpreters working with their virtual booth partners to access the floor video and audio, event chat, deliver simultaneous interpreting and setup relay languages as well as performing smart handovers through an elaborate set of tools.
Multilingual meeting rooms - Interprefy speaker and audience interfaces for multilingual virtual conferences and meetings in Connect and Connect Pro
Moderator console - Interprefy's virtual studio for technical support monitoring all streaming channels and engaging with participants via direct chat to offer instant remote support.
Media library - For meetings and events requiring recording, Interprefy's media library offers recording of all video and audio streams.
Mobile app - Inteprefy's mobile application for iOS and Android smartphone users allows for participants to access Connect (Pro) meetings on their mobile or access interpreting audio during events held on 3rd party platforms.
Widget - By partnering with leading virtual event platform providers, Interprefy allows for embedding an audio language selector within the webcast page of virtual events.
Example platform interface for speakers: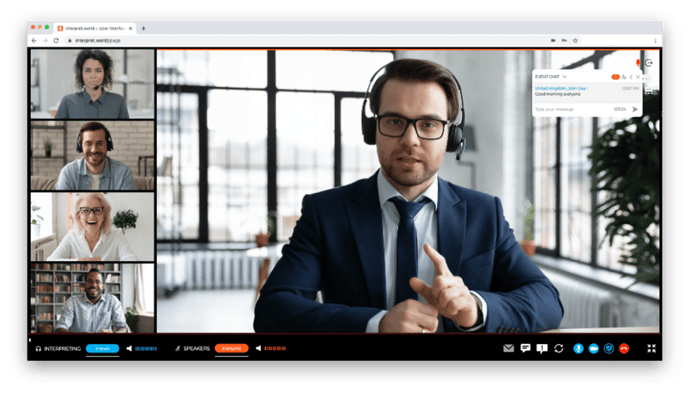 Example platform interface for interpreters: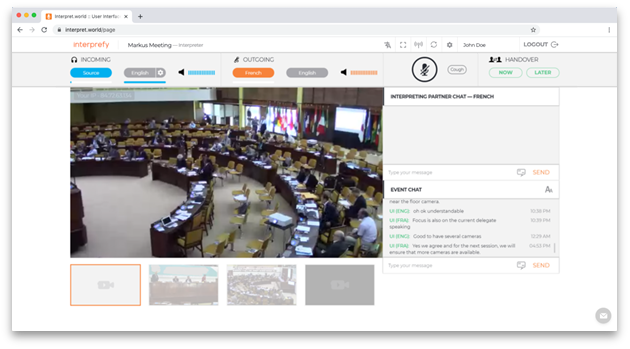 Example platform interface for technical support: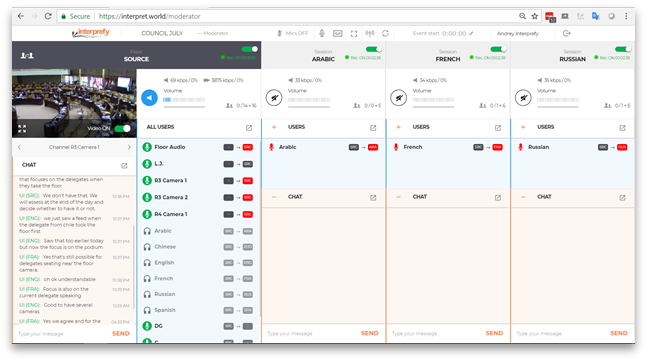 When booking Interprefy's own virtual meeting platform with RSI clients have access to encrypted and highly reliable streaming but also to a series of other services like 24/7 global support for set-up and event monitoring, conference-level interpreters via our partner network, and audio and video recording and transcribing.
Interprefy's Remote Simultaneous Interpreting Solutions
Interprefy has developed different options and technical set-ups, or solutions, of its RSI technology to suit different event types. Depending on your event characteristics—classroom meetings, on-site meetings, on third-party virtual platforms— the Interprefy solution that suits your needs will be different. In general terms, this is what defines our current RSI solutions:
Interprefy Select - Works with all major web conference and streaming solutions, allowing you to add interpreting to your existing online meetings and webinars with minimal effort. If you need technical support, we're always available to help.
Interprefy Connect Pro - Designed for classroom-style online meetings, Interprefy Connect Pro can support up to 300 speakers (with the meeting host having complete control over who is speaking) and thousands more listeners, if needed. Raising hands, two-factor authentication, polling, as well as active directory integration make Interprefy Connect Pro the preferred choice for moderated classroom-style events.
Interprefy Connect - Connect up to 10 remote participants from all around the world and enable them to listen to each other in their language of choice. Meetings can be broadcast to an even larger audience, allowing you to quickly and easily scale them.

Interprefy Event Pro - Take advantage of existing on-site infrastructure with Interprefy Event Pro. Use existing cameras at your venue to provide high-quality video feeds for interpreters, and connect the Interprefy platform to your local audio system with an AV capture card or through our dedicated hardware to deliver high-quality audio. Your audience can use radio and IR headsets to hear the interpreting, so the experience remains the same as with traditional set-ups… the audience can connect to the Interprefy app using their smartphones as well. Win-win!