Interprefy partners with some of the world's leading Language Service Providers to ensure that highly qualified conference interpreters work on your events.
Interprefy does not recruit interpreters directly, but partners with language service providers (LSP) to find highly qualified interpreters for each assignment.
Clients can request specialized interpreters based on the specific requirements of their needs and events. Because interpreters don't need to be on-site, highly qualified conference interpreters from across the globe can be sourced and assigned to your events.
Typically, the process to source and vet interpreters and ensure best-in-class interpretation in your events consists of these three steps:
1. Interpreter recruitment
Our language service partners review all incoming interpreter inquiries and conduct educational screenings, in-depth interviews, and subject-specific tests ensuring that all requirements are met to provide world-class service.
Educational screening: Conference interpreters are required to fulfill the following criteria:

Over 2 years of professional interpreting experience or a minimum of 40 conferences in the past 3 years

Degree in Interpreting, Translation or related field
Professional reference letters and/or
Prior interpreter training (e.g. Bridging the Gap, legal training offered by state governments)

Professional screening: References are always checked in order to maintain a final assurance regarding reliability, promptness, and professionalism that meets high-quality standards.
Subject-specific test: The process culminates in a subject-specific test measuring grammar, spelling, punctuation, numerical, inconsistent vocabulary, text missing, ability to follow instructions, formatting errors, incorrect terminology, mistranslation, ability to adapt to target reader, literal translation, and overall style.
2. Interpreter Platform Training
All interpreters that work on Interprefy's remote simultaneous interpreting platform, whether provided by LSP partners, by the client or are independent freelance interpreters, need to be Interprefy Approved. This means that interpreters fulfill high quality requirements regarding the hardware and software and have completed our Blended training program successfully. Interprefy Platform Training consists of:
Getting up to speed with Interprefy: Interpreters are enrolled to our online course "How to Interprefy! Platform use for Interpreters" where they receive an explanation of all components, features, and functions of the Interprefy platform. Interpreters learn how to set up relay languages, perform handovers, and follow emergency protocol.
Technical setup: We verify that the interpreter's hardware and software meet all standard requirements and are set-up for a smooth performance. Interpreters receive a checklist beforehand, but all settings are double-checked by a Training Specialist.
Live Training Session or Event simulation: Finally, interpreters get to practice what they have learned. This can be a short practice of relay and handovers with their interpreting partners or their assigned Training Specialist, or an event simulation with their team, depending on the training program they choose.
3. Performance Evaluation for Maintaining Approval
Once interpreters have completed online course and live training session on how to use Interprefy's RSI platform, Approval Status is granted for the following 6 months. Whenever the interpreter works successfully on an event, the approval is prolonged for 6 more months from the date of the last event when they worked.
Since Interprefy's RSI platform undergoes changes and improvements often, interpreters can maintain their approval by retaking the online course "How to Interprefy! Platform use for interpreters". Additionally, if the interpreter's technical event performance is below standard, they may be asked to attend a live training session before their next assignment.
Please see below the current Interpreter's approval journey: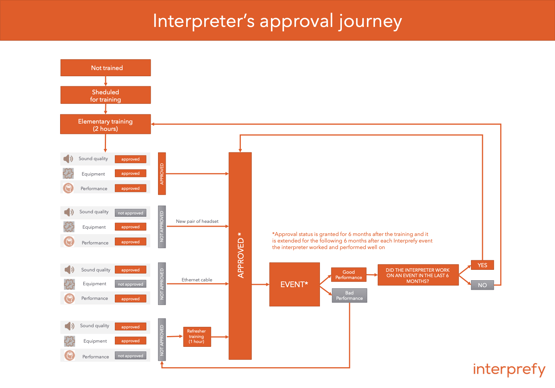 Confidentiality
Last, on top of ensuring highly qualified interpreters for each event via our LSP partners, Interprefy ensures the client's confidence and works towards maintaining the security of the material shared with us. For this reason, each employee, consultant, and independent contractor assigned to Interprefy must sign a confidentiality agreement. Interpreters also understand the importance and the critical nature of confidentiality in their line of work and sign NDAs with the LSPs.