Hosts, delegates, viewers, moderators, interpreters... We help you identify who is who in multilingual events held on Interprefy's platform.
When organising a classroom-style multilingual event on Inteprefy's RSI platform there are different roles. Inteprefy makes it easy for you to identify them and provides you with the required resources, such as connection tokens and user guides, for each one.
Once you have booked your event on the Interprefy platform, your Project Manager will make sure everyone knows how to connect and how the platform works, so you don't have to worry about anything else.
Interprefy's RSI platform has different interfaces with different commands to meet the needs of these different meeting roles. Below is a list of these roles and examples of their interfaces.
Host: the person(s) who presents the meeting or event. This person is in charge of allowing others to speak on our Connect Pro platform.


Delegate: the person(s) who will talk during the meeting, also called Speaker. They will connect to Interprefy's platform with an S-token provided by Interprefy. The interface of Interprefy's platform that they will use have all the required commands to fulfill their role.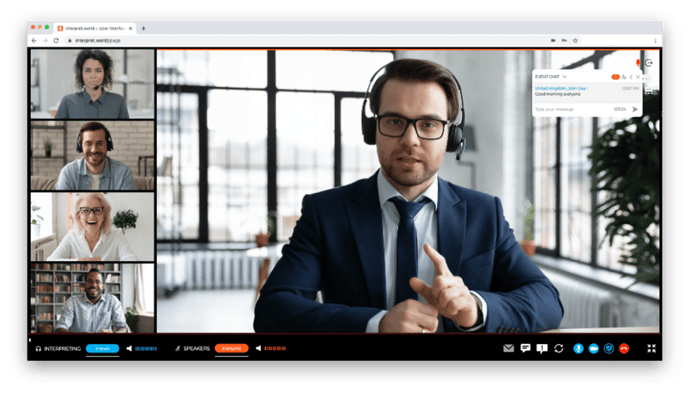 Remote Support: Person(s) in the back-end who makes sure everything works smoothly on Interprefy's platform. Remote support is provided by Interprefy highly specialised staff.


Viewer: Audience in a meeting or event, they don't speak but can use the chat, when available.


Interpreter: Person(s) who convey in real-time the message in the source language to the target language so that the audience understands.