Through Interprefy's pre-call test functionality, you can test your equipment, record and listen to a short sample of your voice.
When joining a session online, we rarely know how we actually sound to other participants and to interpreters who are translating our speech in real-time. This can pose quite the challenge to those trying to follow the dialogue.
That's why, earlier this year, we have introduced the pre-call testing functionality for Connect and Connect Pro meetings, allowing meeting participants and interpreters to get a full overview of their computer settings and internet speed ahead of a meeting.
Making sure you know you sound great
Today, we have updated this functionality to give participants the opportunity to record and listen to a short sample of their audio. To make sure you know exactly how you look and sound to other participants in the session - ahead of joining.
In any session
The pre-call testing functionality is available via the pre-call testing page that can be accessed through this direct link:
Not only is this a useful resource when joining a session on Interprefy Connect or Connect Pro, but literally any session - whether you're hosting a webinar or joining a Zoom call.
Watch our run-through
Step-by-step instructions are also available here
Feature overview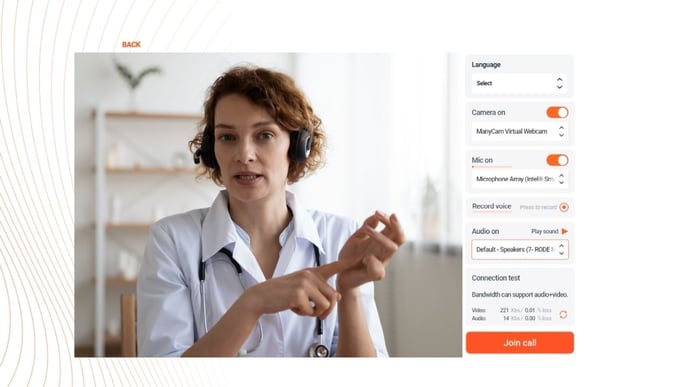 Language - Select your preferred interpretation language. To hear the floor language, select "none".
Camera on - Select your webcam, turn on/off your camera.
Mic on - Select and test your headset or microphone. Turn your mic on/off.
Record voice - Press to record a short sample of your voice
Audio on - Select your audio output device. Click "play sound" to test correct audio output and listen to your recorded voice sample to hear how you will sound in the session.
Connection test - Test if your internet bandwidth can support audio and video streaming.
Meeting control only - Click to join the call without audio or video.
Click "Join call" to enter the meeting.
Pro tip:
Save this link in your browser bookmarks to have it handy whenever you are about to join a session or host a webinar: