Interprefy offers managed, smooth, real-time interpreting for virtual events held on Webex and Legislate for Webex.
Over the past years, Interprefy's expertise and cutting-edge RSI interpreter software interface has been helping take thousands of multilingual Webex meetings to the next level.
With the recent updates on Webex and Legislate for Webex including some built-in interpreting capabilities, Interprefy's expertise, support, and cutting-edge RSI interpreter software interface can help take multilingual Webex and Legislate for Webex meetings to the next level so both meeting participants and interpreters can focus solely on the content of their meetings or webinars, while Interprefy manages the rest.
Interprefy can be integrated with Webex and Legislate for Webex to export the video and audio from the meeting to our interpreter soft console and feed interpreters' rendition of the speech back into Webex into the respective interpretation audio channels.
Please note: Interpretation for breakout rooms is currently not supported in Webex.
Benefits of using Interprefy with Webex and Legislate for Webex for event organizers and participants
By using Interprefy's RSI platform and expertise for Webex and Legislate for Webex meetings, Interprefy can enhance your multilingual meeting experience in multiple ways:
Any language - No limitations in the number and selection of interpretation languages to offer during your Webex meetings.
Relay languages - Also known as "bridge" interpreting. This is used when not all interpreters understand the source language. One interpreter listens to the source language speaker and renders the message into a language common to all the other interpreters. These other interpreters then render the message to their target language groups.
Two-way interpretation - Allows participants to both listen and speak in their preferred language, like in Q&As.

Interpreter onboarding - Recruiting and onboarding the best interpreting talent for your required language combinations and subject area.

Care-free package - Hassle-free logistics and management of interpreting services.
Technical support - Technical support in setting up, monitoring interpreting channels.
Multilingual meeting recording - Possibility to record your meeting or event, including the interpreting rendered.
One-stop-shop for interpreting - A user-friendly and one-stop-shop for the interpreters enabling them to focus solely on delivering their interpretation and ultimately improving the quality of the interpreting delivered to the audience.


Benefits for Interpreters delivering interpreting on Interprefy's platform to Webex meetings
Interprefy has been built specifically to offer interpreters a professional soft console to deliver interpretation anywhere. Some of the highlights of the Interprefy platform are:
Allows to set up different relay languages.
The interpreter works on an interpreter soft console, especially design to cover their needs.
Interpreters can communicate with their booth partner through cues and a partner chat.
Smart handover features.
Interpreters can hear their partners' interpretation, even when working from a relay language.
Remote support and emergency procedures in the event of a technical issue.
How to use Interprefy with Webex and Legislate for Webex
We send the source audio and video from your Webex meeting to the interpreter interface. The interpreter can then see and hear the speaker in real-time and communicate with his/her interpreting partner via chat.
Meeting participants access interpreting audio through one of two options:
Directly in Webex or Legislate for Webex:  participants simply select the language they want to listen to from the globe icon labelled "Interpretation" on Webex. 
To learn how to activate Interprefy on Webex click
here
.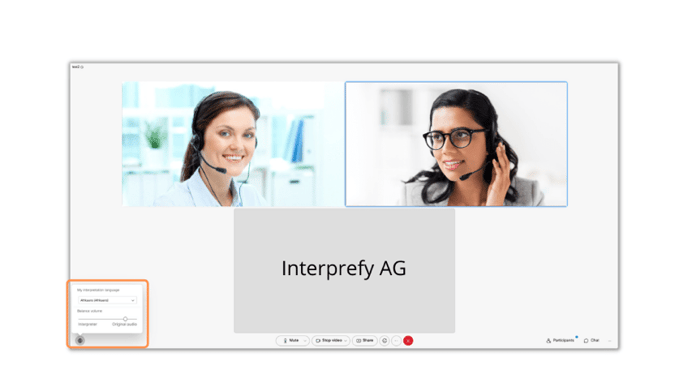 Via the Interprefy mobile app: Much like the desktop app, participants simply download the Interprefy app from the app store, enter the event token and listen to interpreting and follow the webinar on their smartphone.
Making it happen
Contact us for a quote on your requested languages and services.
Your assigned project manager will find the best interpreters for your languages and subject area(s). Alternatively, you're welcome to bring your own interpreters, and we'll teach them the ins and outs of our platform.
We will help with the technical integration, provide user guides and create event tokens.
On the day of the event, our remote technical support team will do a soundcheck with the entire team at least 40 minutes before the start time of your event. Our support team will also monitor the interpretation channels during the event.
If using the app, users simply download the app, enter the token and select their language.
Was this article helpful?
Yes No