Here you will find instructions for using the Interprefy app to interpret from, in case your computer is not available
If you experience a power outage, lost internet connection or any problems with your computer and you can no longer access Interprefy's soft console, you can interpret on Interprefy's mobile app as an emergency procedure.
Read this article carefully to get familiar with the Emergency Protocol in case you need to use it (hopefully you will not 😉).
Download and open app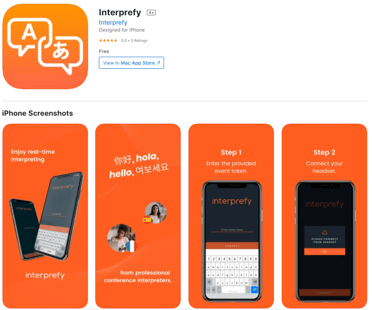 Open the app and it will prompt you to:
Connect your headset. Make sure your headset or earphones have a built-in mic and avoid wireless devices as they might run out of battery -
Enter the token, this is usually a set of letter and/or numbers starting with the letter I (for Interpreter) and a dash. The event token is sent to you by the project manager with the information on the event.
Enter your name. It's OK to enter your first name only.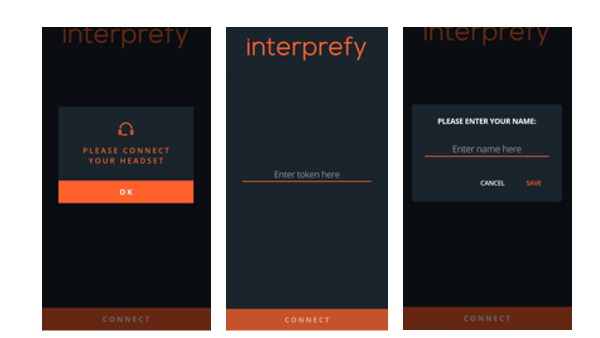 Each event has its own token, so it is a good idea to write down the event token on your computer's notepad or on a post-it to access it quickly. Remote Support may also contact you via WhatsApp or Telegram with the token
Using the app
First, set up your incoming and outgoing language: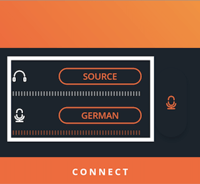 On the Interprefy app you will only be able to choose one outgoing language. In case you need to take relay, you can change the source language if you need to listen to a different language than the source.
Next, click on Connect to start listening to the speaker: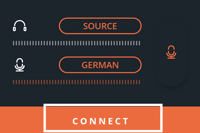 Video will not start automatically, you need to click on the play button on the screen to start seeing the speaker or the presentation: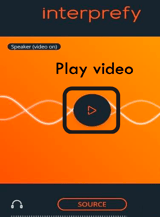 When you are ready to interpret click on the microphone icon next to the languages which will turn bright orange, the volume bar will also activate: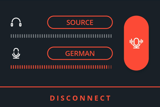 You will not be able to hear or chat to your booth partner on the app, so you will need to communicate with your booth partner using a different device to manually agree on handovers.
You can stop the video clicking on the square on the left or enter the full screen mode using the two arrows on the right: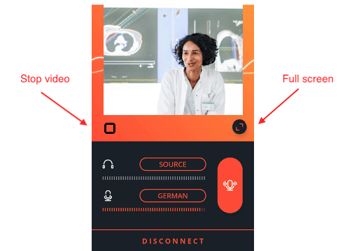 When the event is finished, click on Disconnect and logout by clicking on X in the top left corner: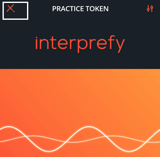 PRO TIP: Download and open the Interprefy app now and use the practice token I-practicei as an example to see how the app looks like. You will not hear audio or see a video but it will help you get familiar with the features.