Interprefy has partnered with ON24 to offer real-time interpreting and live captions for virtual and hybrid events held on ON24.
Summary
Interprefy's real-time communication solution connects multilingual audiences for large-scale ON24 events or webinars in a few simple steps. By removing the need for on-site equipment and eliminating interpreters' travel costs, Interprefy supports global enterprises with secure, accurate language translation from anywhere.
What we offer:
Simultaneous Language Interpretation
Sign Language Interpretation
Live Closed Captioning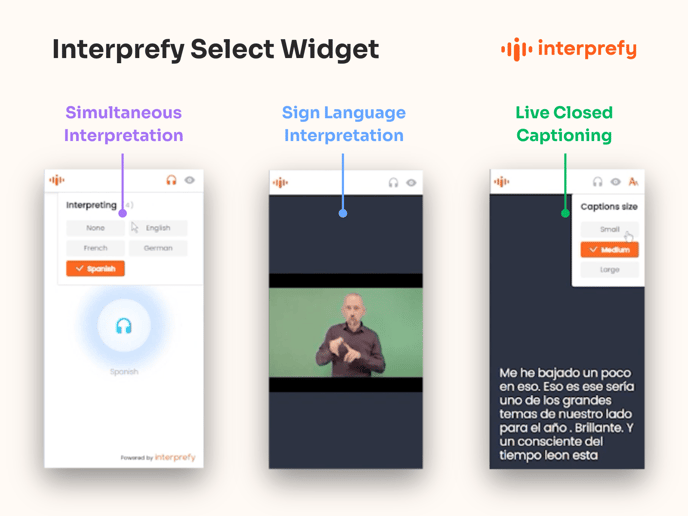 How the solution works
We're bringing the live stream of your event on ON24 into our Remote Simultaneous Interpreting (RSI) platform, while the speech is ongoing. Interpreters working through Interprefy's interpreter soft console are watching and listening to the speaker, while simultaneously interpreting the speech and streaming their real-time interpretation to the Interprefy language selector widget.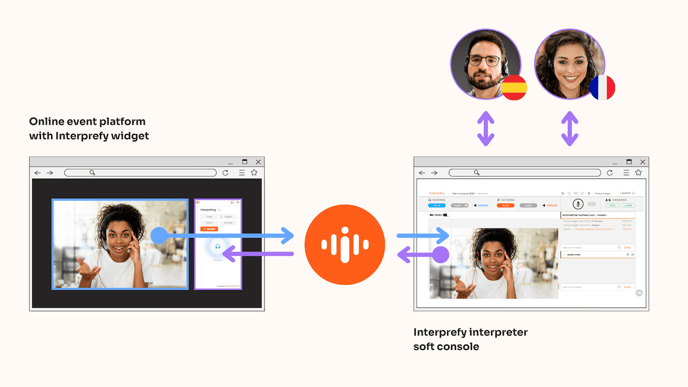 How it works for event organizers and administrators
Request live translation for your upcoming multilingual event from Interprefy. Once Interprefy has scheduled your event, you can simply embed the Interprefy HTML iframe widget into your webcast page and position it next to the video stream. Your event will then display a language selection droplist and it will be ready to provide real-time interpreting to your audience in the language of their choice.
Please note, for event set ups, use a different token for each session, even if the sessions do not overlap.
Auto-Mute Feature and Interprefy URL
Interprefy and ON24 have worked together on a function to auto-mute the floor audio when an interpretation language is selected via the Interprefy widget.
This feature is available through any standard link, for testing use:
https://interpret.world/integrationlink?token=widgetdemo
How your attendees access live audio translation
Your event participants join the event on the ON24 platform and select their preferred audio language channel from the embedded Interprefy widget, or download the Interprefy app and enter the login token provided by the event organizer.
An interpreter will relay all spoken content. Attendees mute the audio output on the video player and listen to the audio content with interpretation in real-time, while all visual content will appear on the event interface.
To be able to use the Interprefy widget properly, make sure you don't select the "embedded chrome" option as shown below: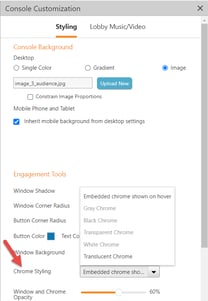 What it looks like
Simultaneous Interpretation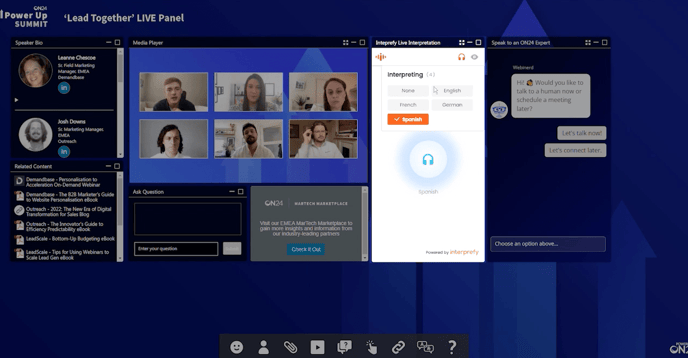 Sign Language Interpretation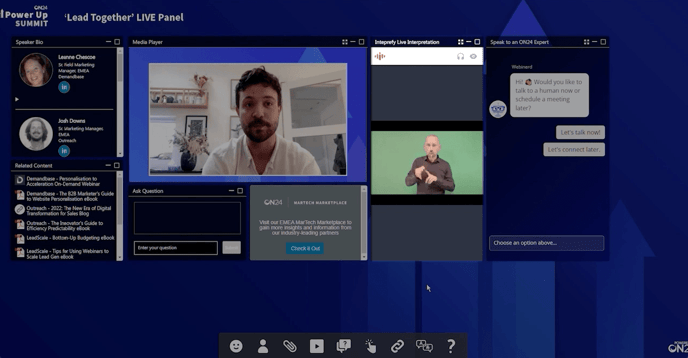 Live Closed Captioning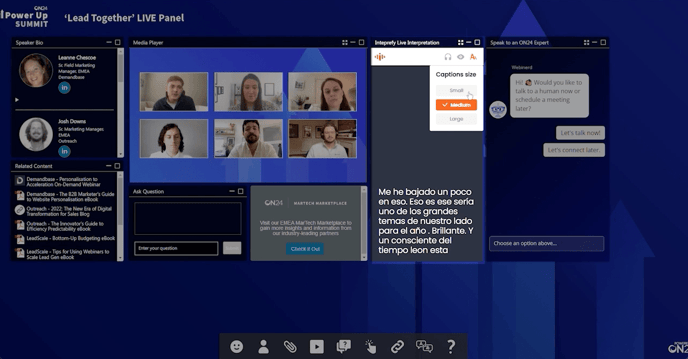 Demo video
Pricing and Booking
Our RSI solution is available on a usage-based pricing model, requiring no subscription. When providing a quote we primarily evaluate event duration, number of languages, and number of users. Contact us to get a quote and book interpreting services for your next ON24 platform event.
Interprefy x ON24 Customer Story
In June 2020, and within just two weeks of preparation time, Interprefy helped GlaxoSmithKline make their multilingual Vaccine Virtual Days on ON24 more engaging by providing real-time interpreting in six languages to over 5000 attendees.