Technology partnership with Interprefy provides flexible, real-time audio interpretation in 26 languages and beyond
Interprefy solution: Interprefy Integration
Official Interprefy Partner
Virtual events platform: Notified Studio
In September 2021, Intrado has announced that it is rebranding its Digital Media business to Notified.
Summary
Interprefy's real-time simultaneous interpretation solution connects multilingual audiences for large-scale Notified events or webinars through seamless integration. By removing the need for on-site equipment and eliminating interpreters' travel costs, Interprefy supports global enterprises with secure, accurate language translation from anywhere.
How the solution works
We're bringing the live stream of your event on Notified into our Remote Simultaneous Interpreting (RSI) platform, while the speech is ongoing. Interpreters working through Interprefy's interpreter soft console are watching and listening to the speaker, while simultaneously interpreting the speech and streaming their real-time interpretation back to the Notified webcast.
Integration vs Widget
Interprefy has partnered with Notified to provide event planners with the best services and technology possible. Interprefy can support Notified in one of two ways:
Integration - Interprefy integration into Notified works by injecting audio feeds containing translated audio directly into the Notified platform in real time. Users are then able to select the required language from a single interface. This ensures the feed is scalable and secure, and the integration is seamless for users. Up to 26 pre-defined audio languages can be added through the integration.
Interprefy Select Widget - If other or more languages are required, the Interprefy Select widget can be embedded next to the webcast.
How your attendees access live audio translation
Your event participants join the event on the Notified platform and select their preferred audio language channel from the language selector.
An interpreter will relay all spoken content into the selected language. Attendees listen to the audio content with interpretation in real-time while the presentation continues.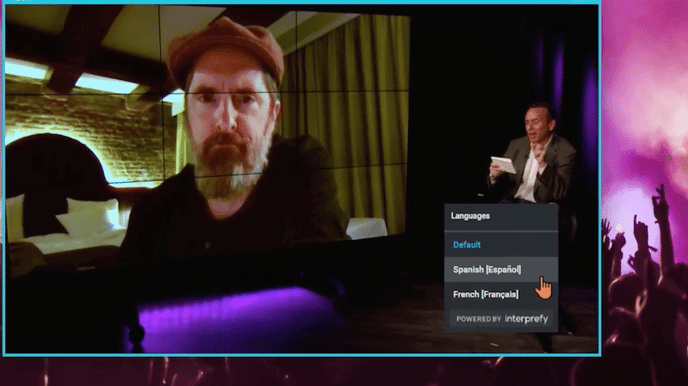 Available languages
Through the Interprefy integration, the following languages are available. If other or more languages are required, the Interprefy Select Widget provides unlimited language options.
Chinese (Simplified), Chinese (Traditional), Czech, Dutch – Netherlands, English - United Kingdom, English United States, French, French Canadian, German, Greek, Hebrew, Hungarian, Italian, Japanese, Korean, Polish, Portuguese Brazilian, Romanian, Russian, Slovak, Spanish, Turkish, Ukrainian
Coming soon: Thai, Vietnamese, and Bahasa Indonesia
What the Interprefy integration looks like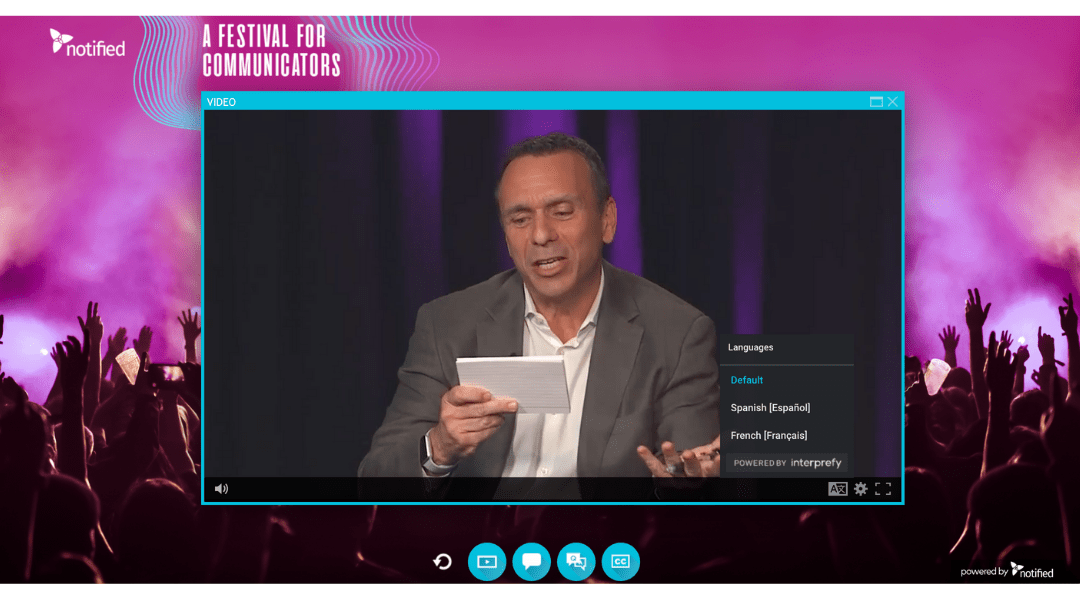 Pricing and Booking
Our RSI solution is available on a usage-based pricing model and requires no subscription. When providing a quote we primarily evaluate event duration, number of languages, and number of users. Contact us to get a quote and book interpreting services for your next Notified platform event.