A step by step guide to using the Interprefy desktop app for macOS during your event.
1. Install Interprefy app
Download and install the Interprefy desktop app:
Please note
For optimal performance on Mac computers, installing macOS Catalina or later is required. ​
Mac users are required to restart the computer after app installation. ​
2. Join meeting or event
Open your event or meeting
Open Interprefy desktop app and enter the event token for your event, click «connect».
3. Change audio speaker settings in event or meeting platform
Go to audio settings in the meeting or event platform, select «Interprefy Audio Driver» as your speaker.​
Please note, this applies to «Speaker» settings only, microphone settings are not affected.
Example: Speaker settings in Zoom
Example: Speaker settings in Webex
Example: Speaker settings in Microsoft Teams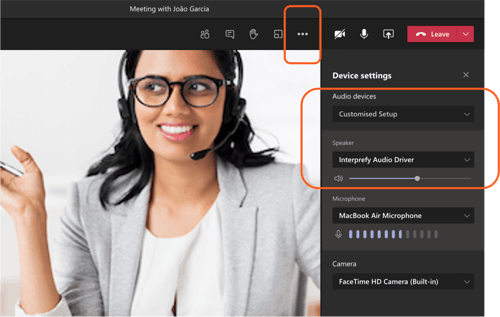 4. Select your language
Click «select» and click on your preferred language to listen to interpretation.
Please note:
Interprefy desktop app will automatically mute original speaker, when interpreting language is selected and interpreter is speaking BUT Mac users using macOS Mojave or older operating systems may be required to manually mute original audio source.
5. When the session is finished,
Click «disconnect» to disconnect from the event.